Children are often the most vulnerable in disaster situations. Yet they are at heightened risk of the worst effects of catastrophes.
Pledge to focus your impact especially on the well-being and protection of child victims of disasters.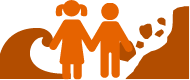 children lost their lives to the effects of natural disasters

children living in conflict areas today are under the age of 5
Why is it worth giving to pre-emptive resilience building before the onset of disasters?
Because more lives are saved and child well-being is better safeguarded when communities are equipped to protect themselves before disasters strike.
After their communities were trained in psychological first aid,

With a new evacuation shelter built before the typhoon season,
lives are safe every time
a typhoon strikes the coast
of Vietnam
Children in conflict recovered
is saved in avoided or reduced disaster response and recovery costs
For every dollar invested in disaster risk reduction,
children living in conflict areas today are under age of 5